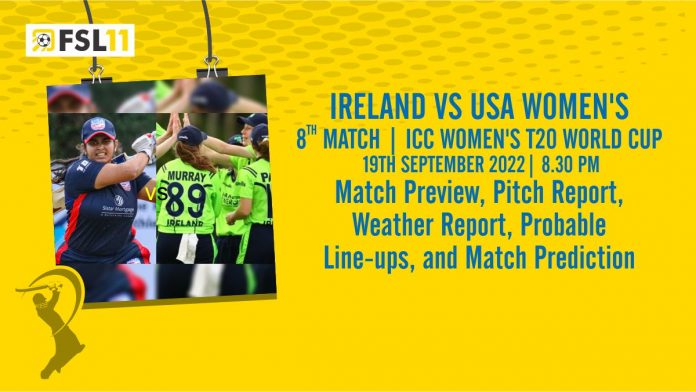 Match Preview:
The ICC Women's T20 World Cup Qualifier, 8th match is being scheduled on the fixed date of September 19th, 2022, at the location of the Tolerance Oval, Abu Dhabi. The women of Ireland and the United States will play a cricket match which has a time limitation of 20-over, and people will check on Monday who won the game between Ireland and the United States women's team.

Match Prediction:
Both Ireland and the United States women have performed in the past that records were not available, but based on a recent tournament, they won in two games to get 2-2 victory scores after defeating several teams.
Match Conclusion:
The conclusion of the 8th match of the ICC Women's T20 World Cup Qualifier shows that both Ireland and USA Women are capable enough to mark victory by great scores on September 19, 2022, at 8:30pm. Hence, they just performed with perfection on Monday.
Ireland Women Squad Laura Delany [c], Georgina Dempsey, Amy Hunter, Shauna Kavanagh, Arlene Kelly, Gaby Lewis, Sophie MacMahon, Jane Maguire, Cara Murray, Leah Paul, Orla Prendergast, Rachel Delaney, Eimear Richardson, Rebeca Stokell and Mary Waldron.
USA Women Squad Sindhu Sriharsha [c], Geetika Kodail, Bhumika Bhadriraju, Gargi Bhogle, Moksha Chaudhary, Taranum Chopra, Disha Dhingra, Prithi Iyengar, Anika Kolan, Anika Kolan, Snigdha Paul, Lisa Ramjit, Ritu Singh, Yashaaditi Teki, Suhani Thadani and Ishani Vaghela.