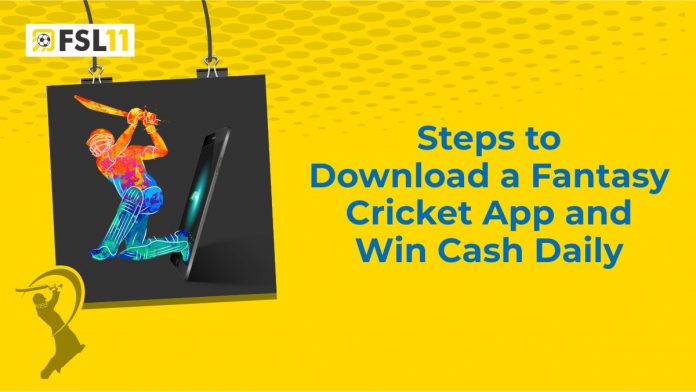 Cricket is more than just a sport in India. Some view it as a religion, while others view it as an emotion. There is nothing like the adrenaline rush of the end of a game. In India, there is never a dull moment when it comes to cricket. A game where every fan has an opinion about the player, game, team or format.
The cricket-crazy fans of India are sometimes more worried than the players themselves. It is not possible for everyone to become a cricketer, but anyone can now place a bid on a favourite player.
FSL11 and other fantasy cricket apps in India have gained enormous popularity thanks to the cricket fan base. A fantasy cricket game allows cricket enthusiasts to demonstrate their passion for the game, test their cricket knowledge, and challenge their analytical skills. Every match is more exciting and enjoyable when you play free fantasy cricket and win cash daily.
Fantasy Cricket: An Introduction
Online fantasy sports games such as Fantasy Cricket game involve selecting a virtual team of real players and scoring points based on their performance during a real-time match. In fantasy cricket, you select your team as the captain, and your aim is to select the best possible 11.
Fantasy cricket game is often misunderstood as a game of luck and intuition, but it is a game of skill that requires a thorough understanding of the game, as well as excellent analytical and predictive skills. You will be able to select the best players for a match and win contests with a good understanding of the game and a few cricket news updates. Also, fantasy cricket app download is absolutely legal and is often categorised as 'games of skills.' 
Selection of Fantasy Team for Daily Wins
This game is primarily about selecting the best 11. To create a winning team, consider the pitch report, the weather conditions, previous records on the field, the results of head-to-head player battles, the game format, and players' recent performances.
A balanced fantasy cricket league consists of bowlers, batsmen, all-rounders, and at least one wicketkeeper. It is impossible to pick more players from one category without considering others when selecting a team. The selection has to be within the given credits, and big names are worth a lot of points.
A team for FSL11 has a budget of 100 credits, which consists of a minimum of 1 wicketkeeper, 3 batsmen, 1 all-rounder and 3 bowlers. The maximum limit of every category is 4 wicketkeepers, 3 batsmen, 4 all-rounders and 3 bowlers. The selection of the same depends on the budget.
The team captain and vice-captain are chosen after your team of 11 have been created. As a result, both captain and vice-captain earn bonus points, i.e. the captain earns you 2X points, while the vice-captain earns you 1.5X points.
FSL11 also provides match analysis, previews and player statistics, making selection easier.
Steps to Download and Play a Fantasy Cricket Game:
Register and get an instant joining bonus of Rs.100
Add a minimum deposit of Rs. 100.
Pick a match from among the listed tournaments.
Pick a contest, entry starting at Rs.1
Build your FSL11 team
Select Captain and Vice-captain.
Edit the team, if needed, after the toss results are out. To do so, you get a span time of half an hour before the match begins.
Follow the match and keep checking your score on the FSL11 leaderboard, which is updated in real-time.
After the winner is announced, withdraw the winning amount from the wallet via Paytm transfer or continue to invest, selecting the next match.
Follow the notification for future matches and updates on the easy-to-understand and play – FSL11 app. It announces the contests and offers in advance so that you do not have to worry about missing out on a match.
How to win cash daily?
In order to win in fantasy cricket games, you must keep a number of things in mind when creating your team and devising your winning strategies.
With these 5 easy tactics, you can win a match every day:
1. Pitch and weather analysis
The weather and pitch conditions greatly affect the performance of a team and its players. Ideally, batsmen should play on an unchallenging surface with a sunny day, while swing bowlers are most effective in humid conditions. In case it rains, it is highly likely that the match will end in a draw as the match will be cancelled.
An example of a match affected by the weather is the WTC final between India and New Zealand. Rain and overcast conditions severely affected the Indian vs. New Zealand World Test Championship final on day four in Southampton Zealand. Having this insight is therefore crucial for a winning team, even though many fantasy players ignore it.
2. Choosing Captain and Vice-captain
Selecting the right captain and vice-captain is one of the most important tips for fantasy cricket daily. A decision made by the same could mean the difference between winning and losing the game. If you have chosen your captain and vice-captain as the two best players of the match, no one will be able to beat you. Since the captain of each team gets 2x points and the vice-captain gets 1.5x points.
3. Tosses and last-minute changes
In a fantasy game, the toss takes up the most time. Depending on the result of the toss, the participants can make a few changes to their team of 11 players. Players can be added or removed based on changing requirements.
4. Multiple teams
You can create multiple teams in daily fantasy cricket games. This means that even if you lose with one team, the other time might give you a bigger profit. This is one of the most useful Fantasy cricket tips.
5. Choose the right combination.
At least one player from each category must be selected. The ideal way to go about it is by picking all-rounders who bat in the top four so that you get maximum points. The same goes for wicketkeepers, who are known for their batting abilities too and can fetch points through both batting and wicket keeping. It is always better to go for a combination player.
Why FSL11?
FSL11 live cricket app that offers 500+ daily challenges to choose from while allowing you to earn money. It is the most accessible game for cricket fans or non-cricket followers, with exclusive features and daily offers.
FSL11 app, download and win daily rewards.
Download FSL11 – The best fantasy cricket app now to bring in the real thrill of playing fantasy cricket online and win real cash every day with exciting bonus points. https://fsl11.com/download-fantasy-cricket-app
Image Credits to Owners