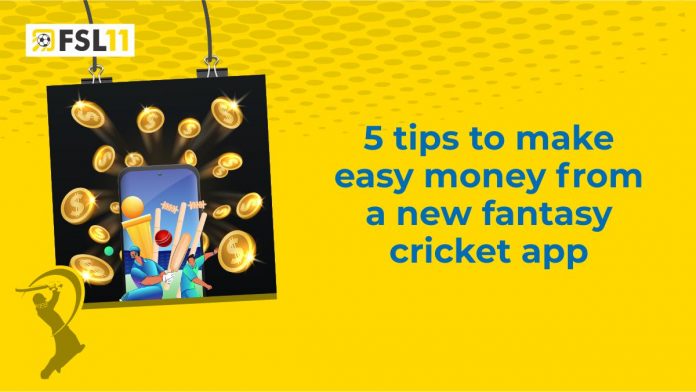 Fantasy cricket is a whole new world for cricket lovers to enjoy the game. Cricket is a sport which is loved by so many people. Especially in India the craze for cricket is at another level.
Indian fantasy cricket gained massive popularity because of this craze. There are so many fantasy cricket apps where you can go and enjoy live cricket as much as you want. The fantasy cricket app in India got so much love from Indian cricket supporters. 
Playing in an Indian fantasy league is very simple. All you need to do is make your virtual team, select your players and enjoy the game. You need to deposit some money and then you are ready to join a contest. You can track the contest leaderboard to see where you stand on the list. What's more? While playing a fantasy game, not only does it double your thrill but can also earn you upto Rs. 500 daily. 
FSL11, Indian fantasy cricket app is a great platform for earning money as well. While the app is easy to use, FSL11 blog post also provides you with current updates on matches and cricket previews for upcoming games. FSL11 also offers tips on gaming hacks, key points of playing Fantasy cricket, and more. 
Here are some tips and tricks for earning a good amount of money from a new fantasy cricket app 
1. Create optimal teams
This is the most basic rule that you need to keep in your mind while creating your team on any best fantasy apps for cricket. You should create an optimal team having the best players. This just increases your winning chances. Also, you should create multiple teams instead of creating just one single team. In this, if one of your teams loses you still have the chance to win with your other team. Your team should have an equal no of batsmen and bowlers or you should go for all-rounders as well. Also, one more effective way is selecting top-order batsmen that can increase you are earnings automatically.
An ideal team is a balance of 1 wicketkeeper, 4 batsmen, 3 all-rounders and 3 bowlers. However, in some cases, you can shuffle the number of batsmen and bowlers depending upon the pitch conditions and weather forecast.
2. Understand the points system
Best fantasy apps for cricket have a point system. They have a points structure of batting and bowling both. All you need to do is understand that particular point system properly for every game format whether it is ODI or T20 you should know it all. To understand the point system properly for earning a good amount of points and money.
Every game has a different points system. In FSL11, you can select a Captain and Vice-Captain. The captain receives 2 times the points while the vice-captain receives 1.5 times the points. So choose them wisely.
3. Join small but confirmed contests
If you join a new application try to take part in a smaller contest that has a low number of participants because if you take part in a contest where around 10,000 people are taking part, the chances that you will be on rank 1 is very low. To win money and prizes easily, take part in small contests because the chances of winning automatically increase.
4. Select your star players wisely
In a fantasy team, every player comes with a certain budget. Legendary players are more expensive than young players. Similarly, all-rounders are more expensive than bowlers.
Especially, when it comes to IPL where you have the option to select International and domestic players in one team, you need to plan budget and choose players wisely. Since, overseas players are more expensive than domestic players. The extra budget might provide you with an opportunity to upgrade your players. However, you should also analyse if the upgrade is worth it. Also, Indian players are more accustomed to the Indian pitch and are more affordable than international players. So, select the star players wisely. 
5. Use apps that allow team modification
Almost every fantasy cricket application closes its contest an hour before the official match begins. The toss happens 30 minutes before the match starts, that is the time where you can understand the match in a better way. Select an application that allows you to make changes in your team after the toss. This feature directly increases your winning chances. Toss has a huge influence on the deciding team and players.
In FSL11, after the toss result, participants can make the last few changes in their team of 11 players depending on bowling and batting. You can select or remove players based on changing requirements.
These are just a few basic tips and points that you need to keep in your mind while creating your team in any fantasy application. Your winning chances just increase directly keeping these basic things in mind.
Which are the best fantasy apps?
For someone who is not accustomed to the fast-paced concept of fantasy gaming, it can be difficult to even understand the user interface. However, FSL11, the best cricket fantasy app, is India-centric and developed to ease your gaming experience with an easy to understand and play interface.
FSL11 allows you to watch all the matches across the globe and in India. It is always fun to test your skill in various matches, be it the ODI, the ICC, the IPL, the Twenty20, the Ranji Trophy and more.
Download FSL11 – The best fantasy cricket app now to bring in the real thrill of playing fantasy cricket online and win real cash every day with exciting bonus points. https://fsl11.com/download-fantasy-cricket-app
Image Credits to Owners