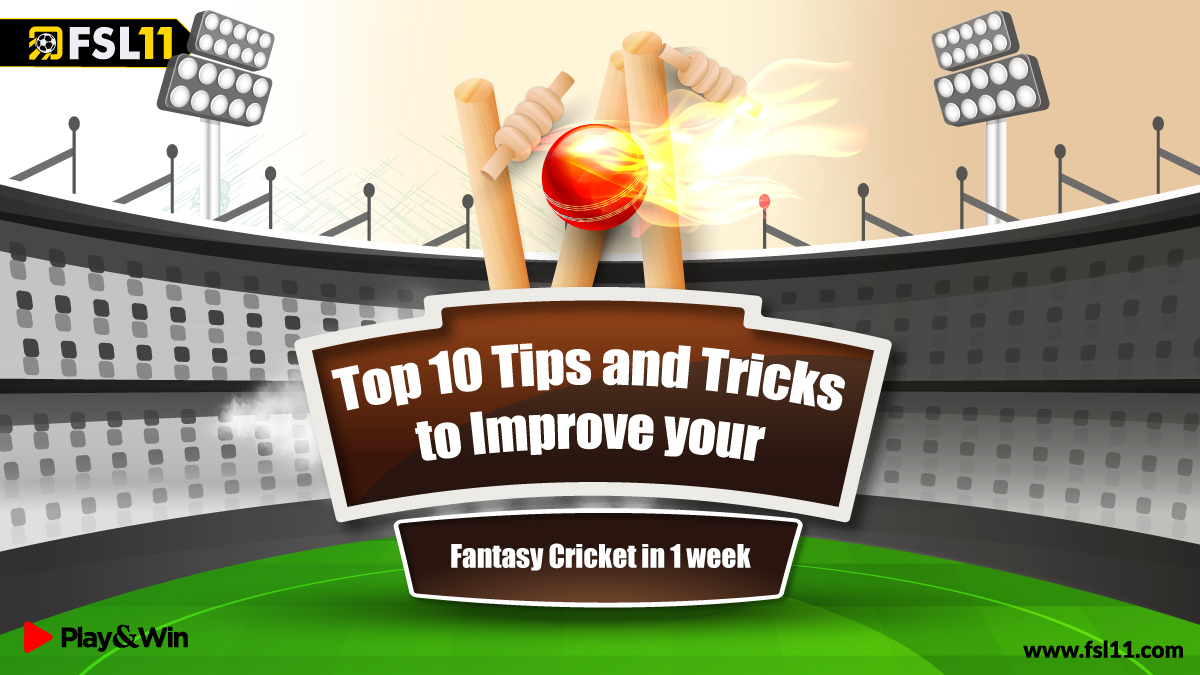 Fantasy Cricket has been at the peak when we talk about fantasy sports games around the world. As we all know the craze of cricket in India is for a long period of time. And it has reached on great heights with an increase in various fantasy cricket platforms. FSL11 is one of the best fantasy sports platforms around the worlds. It has been leading the market due to quality graphics and quick withdrawal facility which make them stand out in the big market.
Every substantial activity on the cricketing pitch has a point, be it a catch, a run, a wicket, or a stumping. And if you want to pick the promising team from all the available choices, check out Top 10 Fantasy Cricket Tips and Tricks to Improve your Fantasy Cricket in 1 week:-
Tip #1: Players Performance Analysis
One of the most important fantasy cricket tips that all the users forget while joining any match is an analysis of the current form of the players. As taking players based on their reputation and favouritism is a bad idea. It is much nicer to go for players who are glimpsed playing in most of the matches. This way, you are sure to pick players, who are playing on a regular way in the current cricket matches.
Tip #2: Pitch Report and Weather Forecast
All the cricket expert and spectators know what role pitch report and weather forecast play in a cricket match. One should consider checking pitch report and weather forecast and make the team based on the analysis and take a move ahead of your opponent in fantasy cricket league.
Tip #3: Check Playing XI for the match
As almost all the fantasy platforms are providing a deadline of 30 minutes after the toss happens. So all the fantasy cricket gamers should check out whether the players selected in your fantasy XI is part of playing XI of both the teams. If you make a team that has players who are not actually playing the live game, you will just lose the match for sure.
Tip #4: Selection of Captain and Vice-Captain
The most significant thing which will decide where the match will move on is the choice of captain and vice-captain of your fantasy XI team. Try to choose captain or vice-captain from the openers or all-rounders. As they get more chance of getting points than any other players. And even try to make captain and vice-captain from a different team if the match is expected to be a thriller.
Tip #5: Value Investing
By Value Investing we mean that there various types of players with different rates according to their calibre. One should ensure that the player provides value for the credits we invested for them. As if we take a high credit player we might have to miss two or three big players. So we should choose the players based on Value for Investment not based on the favouritism.
Tip #6: Selection of Top Order Batsmen
One of the most famous fantasy cricket tricks the experts use is taking more of top-order batsmen. Instead of taking finishers or batsmen who come down in the batting order. As the top-order batsmen have more chance to score points.
Tip #7: Wicket Takers
Choosing bowlers with low prices, will not certainly help you close the targets. Of course, that means, you will not get too many points as well. It is important to select wicket-taking bowlers, even though they may be giving away more runs.
Tip #8: Creating Multiple Teams
One of the best fantasy cricket winning tips is making multiple teams with a different combination. In FSL11 you can make 6 teams with different combination and even you can join the different contest with each team. The strategy is a must use if you are playing in Grand League which includes many opponents.
Tip #9: Match Prediction Articles
Read the match prediction which is generally published many hours before the match to understand the upcoming match details from the experts. You can check out FSL11 website where the articles are written by quality writers who have very good knowledge about many sports and provide the best possible information to the users.
Tip #10: Extra Points
When you are taking advantage of the point system, then you certainly want to score extra points as well. There are bonus points awarded for catches, stumpings and even run-outs. It is important to track players who regularly take catches and do enormously well as fielders. This is sure going to improve your point score.
About FSL11 Fantasy Sports App
FSL11 is a premium fantasy sports platform where you can play fantasy cricket games and Fantasy Cricket Leagues online. Just create your fantasy cricket team and compete with the online players. Download Fantasy Cricket App FSL11.