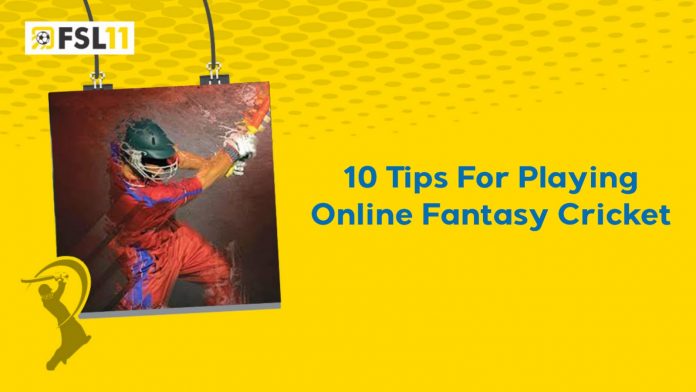 Ever thought of playing cricket without a bat and ball and winning it like a pro champ?
What if we tell you that now you can make a lot of money not by just playing cricket but by predicting it using your simple tactics, that too from the comfort of your home!
If you stay till the end of this article, you will be able to get the top 10 best online fantasy cricket tips that will make you the star of the match and toss money into your pocket.
1. Choose a player who has excellent form
Choose players based on their current performance metrics. Many people fall into this pitfall of choosing players who have gone out of form years before.
2. Choose captain and vice-captain very wisely
A top-notch team cannot perform well without a skilful captain and vice-captain. It is the deciding factor of your fantasy game.
Check their past match performance metrics and their total matches in the fantasy league, and make an informed decision.
3. Choose a top-order batsman
Well, it's a common human behaviour to choose our childhood cricket stars who have gone out of form years before. Stay away from this consistency trigger.
Make an informed decision by choosing a top-order batsman.
4. Choose appropriate battle
Why do you choose to play only a few matches from the plenty of other tournaments out there? Surely this question will arise in your head if we say that you need to stick with only a few tournaments.
Fantasy cricket is all about making informed predictions don't just rely upon luck by subscribing to every tournament. You might end up losing all your money on the table.
5. Create multiple teams
Not relying just on one single team is the best strategy out there from everything. One big win will match all the other losses.
6. Check the health condition of the players
Give attention to small details like assessing the players' health condition, knowing about their injuries will help you pick the right XI players.
7. Select players based on the weather and climatic condition on the pitch
Not everyone will give their best performance in every type of weather condition. Some people will have high energy during the sunny days, some players will play well in the windy time.
Track the weather conditions thoroughly before you place the players on the field.
8. Stay tuned for the toss results
Toss will define your early wins, it is important to stay till the toss ends.
As soon as the final Xl players are released by the team, you can make necessary changes if it is required in the later stages.
9. Make the proper batting, bowling, and field settings
Now your team is ready, captain and vice-captain all rightly set for the action.
But it is not just enough yet, you need to understand the strength and weaknesses of each player and place them accordingly in the batting, bowling, and fielding zones.
10. Stay updated with the activities of your team members
Stay aware of every update about your fantasy team, even the replacement of your team's coach may create a noticeable impact on the overall performance.
Follow daily fantasy cricket tips to stay updated with the trends.