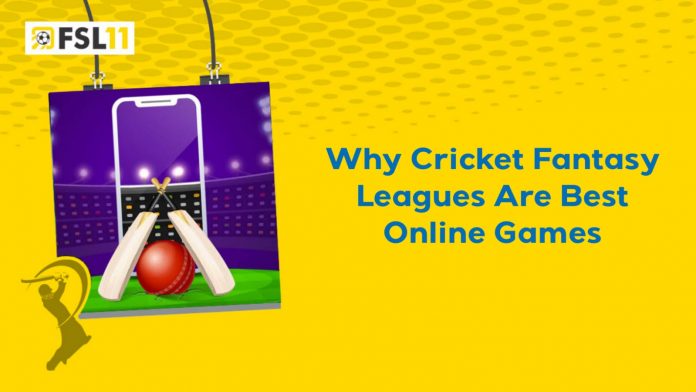 The craze of online games is spread all across the world because it connects people around the globe. It has provided a platform for friends who are not at the same place where they are, but they can still stay connected and play with their old friends. Fantasy Cricket is one of those games we all love and want to excel in and compete with our friends. Let us see what makes cricket fantasy leagues most famous among all the online games present here-
1- Create your contest –
In our childhood, we all dreamed about our favourite team combinations, like having Virat Kohli batting with AB De Villiers and bowling Brett Lee with Shoaib Akhtar and many more; we like to boast about our team combinations and debate with our friend how our team combination is superior to their team. The fantasy cricket game gives you this opportunity, and here you can create your team and create a contest with your friends. 
2- Excitement at its peak –
On your new fantasy cricket app, you can view all the live scores and your team performances, you can view the performance of your friends and competitors team, your ranks will fluctuate on every single ball and every run scored by your players. It is a complete roller coaster ride and an enthralling experience. This makes everyone stuck to their seats until the match ends.
3- Play from home –
No one has time to go on the grounds to play cricket in the busy world now, but we all want to enjoy the same thrill we have on the ground. So this is one of the most important reasons which make fantasy cricket famous: it gives you the same thrill from your home. You can visit fantasy cricket sites to check for upcoming, ongoing matches and create a team to join a contest. This makes you feel that you are a part of the game, which excites everyone. 
4- Win real cash –
Unlike other games, which cost you money, you can play fantasy cricket and win real cash. You have to do some basic research on teams and players, watch weather and pitch reports, and choose the best team. This little effort can make you easily earn in lakhs with full excitement and an enthralling experience. This makes fantasy cricket league people. 
5 – Game for masses –
Fantasy cricket provides an equal stage for everyone to win, unlike other games where you require practice regularly and need to develop some basic skills. There is no requirement for any such skills in fantasy cricket, making it popular among the masses.
So, why keep yourself away from the best online game, download the best fantasy cricket app now, and start winning big rewards.