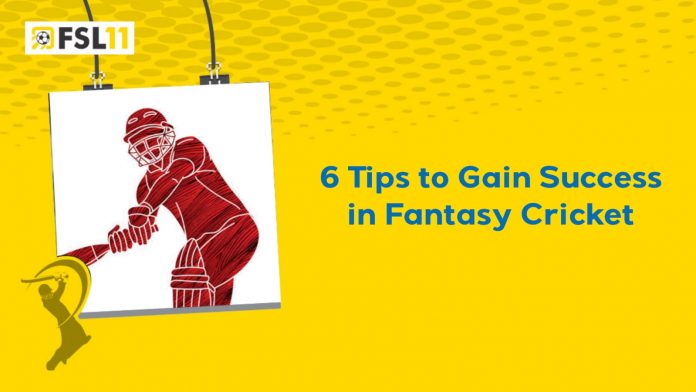 Fantasy cricket has gained immense popularity in recent years not only in India but all over the world. Let us understand what Fantasy cricket is? It is an online game wherein one can form his/her own team of 11 cricket players and earn points as per their performances in the matches played. Now, in order to win the game one must be aware of few tricks and tips of selecting best team in Fantasy cricket online. These are mentioned below:
1. Track Your Players Recent Accomplishments
Players keep playing different matches and so their performance varies within a span of time. Just looking at his older performances you cannot judge about his current situation, so while selecting a player you must track his most recent performance and based on that you can decide to choose him or not.
2. Selecting Captain and Vice-Captain
This is one of the major aspects to be noted, as the right captain and Vice- captain can be a big asset for the game or the fantasy cricket league. The captain of the league gets 2X points and Vice-Captain gets 1.5X points. So if you select two best players for your team as Captain and Vice-Captain you can be highly competitive and increase your chances of winning the game.
3. Creating Multiple Teams
This is one of the most essential tips in fantasy cricket tips, if you create multiple team, you increase your chances of winning. For example, if one of the formed team does not perform well, the other team might end up winning matches with another team.
4. Keep A Track On Weather And Pitch On That Particular Day
Analyzing the pitch and weather is also very important as spinners play extra ordinarily well if the pitch is slow and dry, on the other hand if the pitch is like Wankhede, swing bowlers should be chosen to increase the probability of winning.
5. Keep Yourself Up-to-Date During The Match 
There are many fantasy cricket apps and websites that allow you to play with them, it is upto you to choose best amongst them, and while choosing you must make sure that it provides each minute detail that can affect your team's performance. Even the change of empire and coach can affect largely.
If there is an injury to the batsman, or any change in the position of the batsman, you must be aware about such details as this might turn out to be helpful if known prior and changes made accordingly on time, otherwise it can be of a big loss.
6. Choosing The Right Team
You must choose top order batsmen wisely in your team as this decides the overall performance of the game. First five should be the best batsmen in order.
There should be right combination of batsmen, Bowlers, Wicket Keeper and Fielders.
You should choose all-rounders in top 5 batsmen, which might help you in scoring well.
With the increasing popularity, the competition of Fantasy Cricket online games also has increased. To increase your winning probability, you need to be resourceful and understand the nuances of the game.