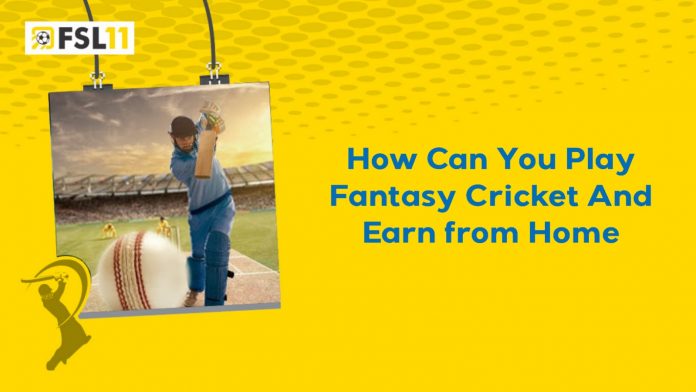 Fantasy cricket game is not as easy as it seems to be, one can definitely play with gut feeling and win small prizes but if you want to win big you need to put in lots of efforts in building the most competent team, that can perform exceptionally well and increase your total points of the game.
There are few famous fantasy cricket league app, that helps in earning daily.
Once you have the correct knowledge about the game and the strategy is formed, making money will get easier. The fantasy cricket also comes in different as physical matches like, T-20, Test Series, ODI etc. you can select that suits you well.
To earn in any fantasy cricket league, there is a point system and each application or website has their own pointing structures, therefore you must be well acquainted with their systems. For example, some might give more emphasis to bowling points and other might be more inclined towards batting.   
The whole game depends upon the right team being built, top 5 batsmen, all-rounder; top bowlers each one of them have their own importance.
Let us understand how to earn money by playing online fantasy cricket
Firstly you need to register in any of the apps shortlisted, by creating an account, thereafter join different tournaments available by depositing some money, on entering multiple tournaments you increase your chances of winning more money. if you score highest on the leader board and maintain your top position you can earn some serious money. It's a game of pure skill and utmost alertness. Also register your account for the money transfer in case you win.
Now choose a team wisely, pick each player after having detailed study done on each one of them, and consider their current performance and abilities. The matches that happen simultaneously can be watched that gives an extra edge as you can see them performing live and improve your judgment as to include them in your team or not.
Later on you get to play with opponent team (another user's team), say for example, both the teams have paid Rs.1100 , so the winning team will get Rs.2000 rest Rs. 200 (100+100) would be commission charged by the app.
So yes you can make money through fantasy cricket league online, it totally depends upon your team selection and their performance during the match , also choose captain and vice captain wisely as they let you earn 2x and 1.5x simultaneously. 
Selecting top order batsmen is utmost important as they are the players who will play maximum number of balls, therefore they will help you in winning maximum number of points in each match you play, ultimately increasing chances of earning more money.
Yes, it sounds unbelievable but right team can make you win cash prizes in fantasy cricket league.