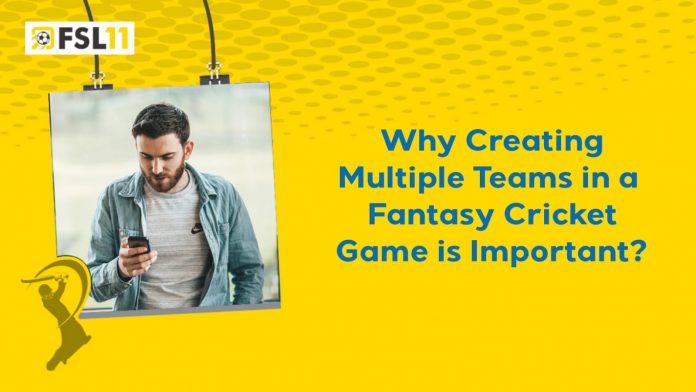 Cricket is one of the most popular sports in India, and it's played and cheered by the masses. Its popularity gradually grew over the years, but winning the World Cup made a meteoric rise in its fanbase. The fantasy cricket game is the most popular product of the cricket craze. It allows you to create your dream team and win real cash rewards. A basic tip to any beginner of fantasy cricket is to create multiple teams for the contests. Let us see how to create multiple teams and why it is so important – 
Research about players –
Some people get fascinated by their childhood cricketing icons and choose them in the team without any research, this is not the right procedure, and it may affect your rank. Always keep in mind If you are going to select a team, it becomes important to check the player's stats, weather reports, and pitch reports. These will help you choose the best performing players in good form and suited for conditions according to pitch and weather. All these pieces of information are easily available on the fantasy cricket site.
Select your core team –
Once you are done with all this research on the best fantasy app downloaded for players' stats and playing conditions, now it's time to finalize your core team, which may consist of 5 to 7 best players among both teams. With this stable core team, you can easily create as many teams as you want. This is a perfect example of calculated risks, where you are allowed to pick anyone from the remaining and create an interesting combination that can make you win. 
Selection of captain and vice-captain –
The points scored by captain and vice-captain are multiplied by 2x and 1.5x respectively, so it can significantly affect your rank. When creating multiple teams in a fantasy cricket league, it is advised to have captains from your core team, which is a stable option, but you can choose other players as your captains because sometimes big risks bring big rewards.
Benefits of multiple teams –
When you join mega contests and play fantasy cricket daily, you have to face a huge competition. If you output all your money on a single team and it doesn't work as expected, it can cause a huge loss. Also very well said, "do not put your all eggs in the same basket." Hence, it is always better to create multiple teams and invest in them accordingly, so even in the worst scenarios, if your main team combination doesn't work out, you can still manage with your other team winnings.
Increased probability of winning-
Multiple teams always provide you the stability. On bad days, it can cover up your losses with other team earnings, and on good days it can make you win massive amounts. In both scenarios, you will lose nothing, which ensures that you will have profit. That's why it is always suggested to have multiple teams.
Now, we understand creating multiple teams in a fantasy cricket game is always a win-win situation, so download the app now and start your journey to success in the fantasy cricket league.