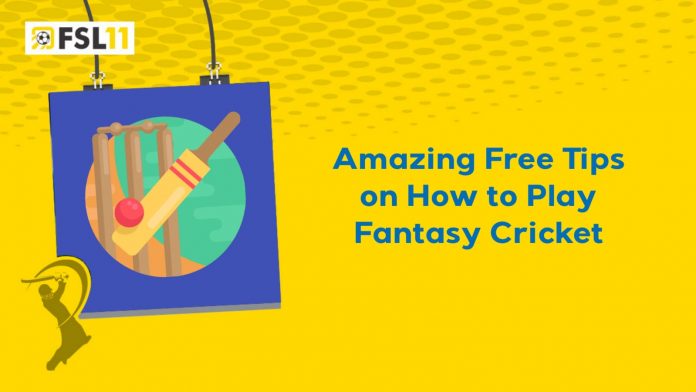 Everything that seems to be easy is not that easy, stating the statement in context with the Fantasy Cricket Game. Even though this game is played online, it requires extensive research and upto the mark analysis to predict the performances of the players chosen and build a strong team that certainly scores the maximum points that makes you eventually earn money.
At FSL11, we give real time information of the live matches and these insights guide you in taking right decisions.
Below are some fantasy cricket tips that will guide you in the right direction, support your judgments and highlight your prediction capabilities:
You must analyze player's current performance in most recent matches and place him/her accordingly in your team.
Just make sure the players' you choose are actually playing the match after the toss happens, otherwise you might lose the match.
You choose players by investing credits you have in your account therefore you must ensure the chosen player gives value to the investment made for them.
Avoid favoritism, rather take decisions rationally.
Fantasy cricket online game allows you to create multiple teams and you can choose any team in the current contests.
One of the pro fantasy cricket tip is to choose a top order batsman such that you score good number of points. The player who bats well should be sent first and likewise.
If you have keen interest in cricket and that you study facts properly then only you should play fantasy cricket.
If played well, fantasy cricket turns out to be the best money earning cricket games.
Top scorer earns money, so one must understand the scoring pattern or fantasy point system.
Follow the leagues happening around the world, be it World Cup, Test Series, ODI or any other international league, because each player plays differently in each type of matches, so you can analyze who plays well in which kind of cricket match. A proper judgment can turn the tables around.
When we talk about captain and vice captain, these two are the most important players, that's why they should be chosen only after extensive research and analysis. They can give you 2X score and 1.5X score respectively.
Never go for choosing low priced players as they might not perform as expected and you end up scoring less points.
Read, read and read about the matches, players performance, all kinds of cricket news, and match prediction articles that give you detailed insights about match and players. The more you study the more you are aware and take informed decisions.
Never underestimate your competitors.
Always go for gaining bonus points, you can get bonus points for stumping, catch, run outs. Choose the best wicket takers.
FSL11 is the best fantasy apps in India you can play with and it just allows you to play seamlessly, and guide you with the live updates of matches currently going on.