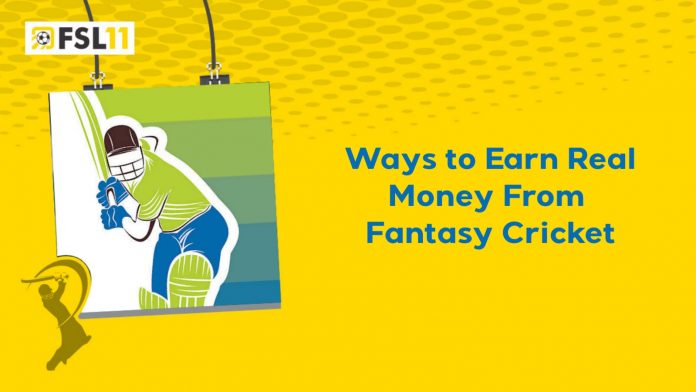 Earning while you play is something you dream of? It's right, you can earn while you play fantasy cricket online with FSL11 Fantasy Sports App. You can download Fantasy Cricket Application from your app store. 
Fantasy cricket games are pretty different from placing wagers; in this you create your own virtual team before the match starts and based on their performances in real matches you score points (explained better below) and based on total points you earn cash prizes. This is absolutely legal in India.
How does this work?
Register with the Fantasy Cricket App.
Pick an upcoming match and form a team of 11 players you find best for your virtual team from both the teams.
Deposit fee to join contests that are going on using your team.
Once the match begins, your scoring starts, based on your team's real performance.
Track your contest score board and check if your team has won.   
 In this blog we will help you understand key points to be taken care of while playing fantasy cricket to earn better:
Choose your fantasy cricket app wisely
There are a few apps that close down entries before one hour of match starts and tossing happens before 30 minutes of the beginning of the match so it might get difficult for you to be confident enough of the team chosen by you. On the other hand there are few apps that allow you to modify the team selected after the tossing happens. This will remove all your doubts about the team and you can play with conviction.
Try to participate in smaller contests or Leagues
It is quite easy to win money, if there are few members playing, your chances of winning are more and it is pretty much easier to beat 10 or 20 members than a large number say 5000 or 10000.
Must have proper knowledge about point system
Point system is not the same all the time. It varies depending upon the type of match (ODI, Test Series or T20). Also every app has a different point structure, some give more weightage to batting points based on runs (century or half century) while others emphasize more on bowling points (wicket etc). Therefore each match has a different point structure. Understand them before playing to strategize better.
Choose captain and vice captain judiciously
The Captain of the team and Vice Captain should be chosen wisely because they score more than regular player, for example: if a regular player scores 10 points, the same player if marked captain will score 20 for same performance i.e. 2X times, and vice captain earns 15 points i.e. 1.5X times.
Check for referral program if any
Refer and earn bonus points. If you refer your friends to the Fantasy Cricket App and they join then you can earn a bonus of Rs 50 or Rs 100. As soon as your friends join and start playing you earn referral amount, this way you can earn without playing also.