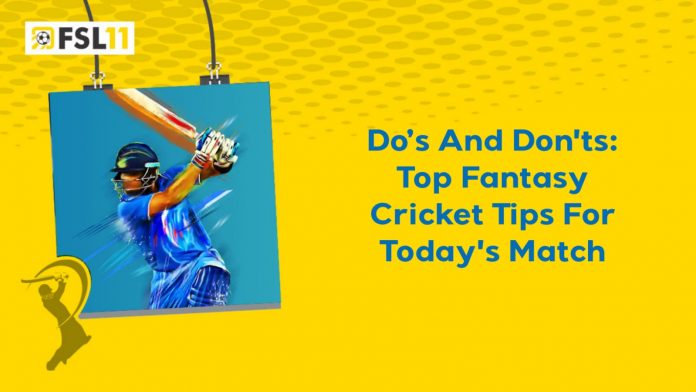 Hurray! Time to play Fantasy Cricket League. There must be great excitement in selecting your tournaments, players, and numerous other aspects!
However if there is any confusion lurking around your mind for the fantasy cricket league, don't worry! We are here to make you a well-prepared player with the best fantasy cricket tips for today's match.
You will have plenty of fun with all these hacks!
A perfect player, a perfect pitch, or a perfect team do not exist. There are perfect ways of getting better at creating a fantasy team on the fantasy cricket website. Know your balance, unleash expectations around perfection, and get it done!
Let's get a hang of some cool fantasy cricket tips for today's match with some to do's and don'ts
DO'S –
Be Patient: Before tackling the technical aspect of team building, remember to be patient and persistent. There would be times when no strategy would work for you, grit it on instead to stop and feel bad about it. Consistent improvements and practises will translate into long-term benefits.
Pitch Research: Don't take it scientifically. LOL. It is one of the biggest determinants of the result of the game. So yes, do your homework before the match begins and consider everything the field experts have to say.
Flipping A Coin: It's always a better idea to wait until the teams see which player they would choose to play first. We're sure you don't want to build a team just because you are a heart-throbbing fan. I would say that fantasy cricket leagues are much bigger than that.
Razor-Sharp Selection: It's highly important to choose wicket keepers and death-over players wisely. Whether you take the wicket of player A or B, what matters is that a bowler who gets a wicket wins points (regardless of the batsman).
DON'TS
No Fan Formula: Superstar, fame, and heroic moments don't matter when you're making a team for a fantasy cricket league. The important thing is their form, past performance, and team combinations.
Don't Rush: No matter what league you're in, don't try to invest too much in the first place. Keep an eye out and allocate your budget accordingly. If you're just getting started, play hands-on games and live money tournaments in moderation.
Better Not Be Unique Right Now: If you think you would choose not many players have chosen and try to make a different team,
You're On The Brink Of Losing: Ensure making popular choices. Even if you want to pick a different player, do it one time in 4-5 matches.
Check The Timetable: Keep it handy. To keep your team balanced, you would want to check whether a particular team played maximum matches within a specific period,
Conclusion
It's just a mix of strategies to have a big grip on your game. A deep dive into your search for various aspects will help you win games. Take advantage of these fancy cricket tips for today's match. Let's win this match.