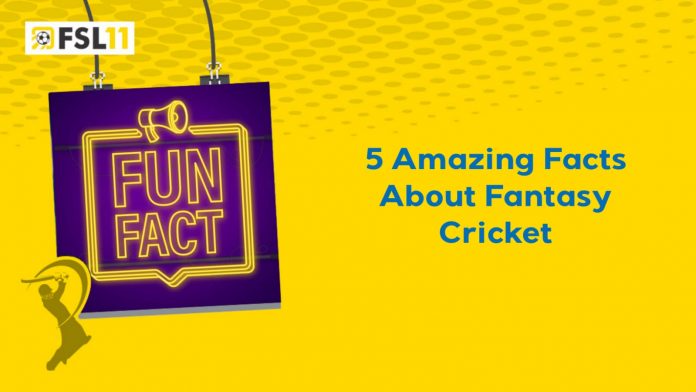 India has been a cricket-playing nation for decades, and for the fans, it's not just a game. Here cricket is treated as a religion, and people are crazy about it. They are connected emotionally to the game and players; they celebrate their victories and feel sad about the loss. Also, cricket has evolved a lot in years, from Test cricket to T-20, with modern rules that make the sport more interesting.
Fantasy cricket is the latest evolution in this series, and the involvement of some former cricketing legends as brand ambassadors made it the talk of the town. Also, if you are not a big cricket fan and have no prior knowledge of the sport, it still can make you earn lakhs just by doing nothing. All of this cumulatively makes online fantasy cricket so popular among the masses. 
Let us see some more amazing facts about fantasy cricket –
1. Dream Team 
When the IPL format was launched, everybody thought about the dream team combination they might have selected. The fantasy cricket app provides you the stage to make your dream team, and you can hand pick your favorite 11 players and choose the captain and vice-captain for the team. This is a crucial choice because the points they score are multiplied by 2x and 1.5x, which significantly affects your rank on the leaderboard. 
2. Thrilling Experience 
You can watch the live score of your team on the fantasy cricket website. Your live rankings fluctuate on every ball and give you an enthralling roller coaster ride experience. This feature increases your excitement for every single ball of the match. 
3. A Small Research Can Earn You Big Amounts 
If you are not a big fan of cricket and don't know how to select a team and captains, you can get all the information about the teams and players on the fantasy cricket websites. It will provide you with all stats you need; with the help of those, you can choose the best combination for your team and can easily earn huge amounts in real cash.
4. Big Risks, Big Rewards
When everyone is searching for the best and safe combinations for their team, you can play fantasy cricket with some risks that can earn you big rewards. It can be in player selection, captain selection, or batting order. For example, if you have chosen a less popular player as your captain, and he scored the maximum, it will make you reach the top of the leaderboard and earn a big cash reward.
5. Everything Is In The Budget 
There are always different contests present, some with low entry fees and fewer rewards, some with moderate fee and high earnings, and many others. You can start learning it in a demo contest free of cost, and if you are confident in your skills, you can start using real money to play fantasy cricket and win real cash.
Now you know all the amazing facts which make fantasy cricket unique and interesting, so download the app today and start earning real cash.