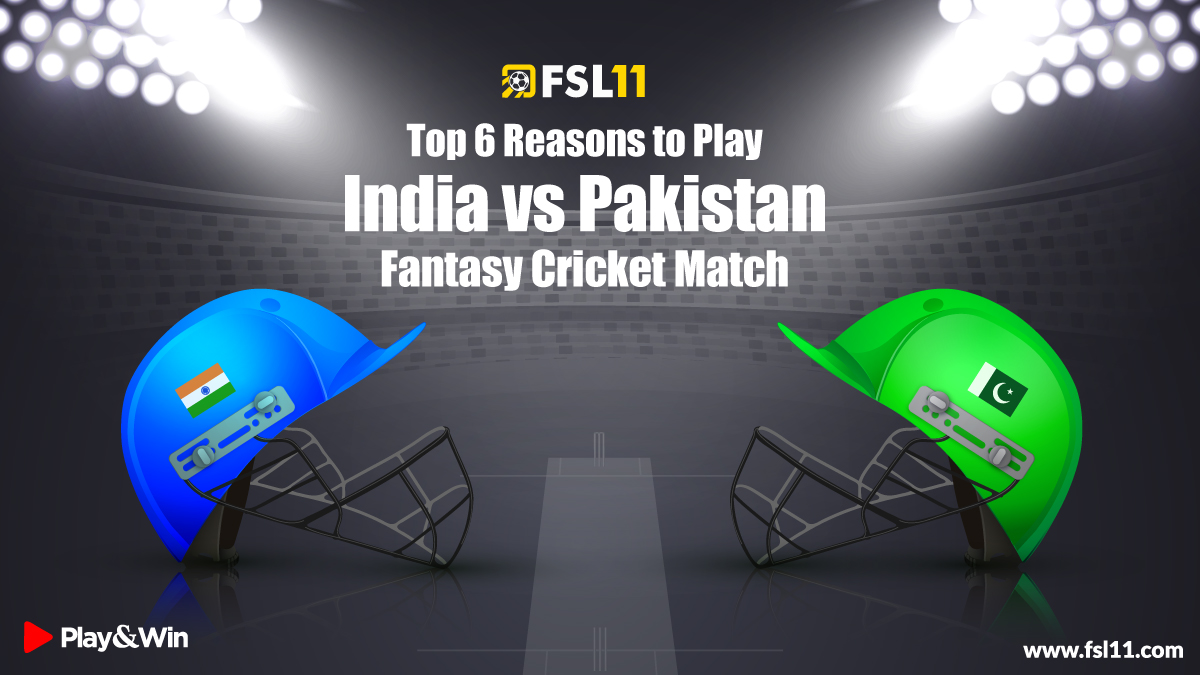 A cricket fight that transcends beyond the range of 22 yards was always loved, is always loved and will always be loved. Even if the players in the teams think, it is just one another game, at the end it is definitely one of the most special match for both the teams and their players.
The match of this duo is one such occasion where it is almost declared a public holiday in India and all the family members unite together to cheer up for bleed blue in full form. The match of India Vs Pakistan, is not just followed for their performance on field but is largely popular for the fantasy cricket world as well. India Vs Pakistan fantasy cricket is most populated event for all the big named applications in the fantasy cricket market like dream11, myteam11 and many others.
There are many reasons that Indian vs Pakistan Match is so popular in fantasy cricket world but here we are mentioning you top 6 reasons the play India vs Pakistan cricket match on a fantasy cricket app:
1. On the very crucial match, there is maximum number of players playing fantasy cricket online. This gives you access to better league matches and more of winning prices.
2. India VS Pakistan cricket is something that any novice, intermediate or proficient level cricket lover will understand equally. Your chances of winning the leagues in this match go higher since we all our thorough with the team players of both team, their past performances and their current health status which can be very useful in selecting the final 11 players for the fantasy cricket team.
3. The news of India vs Pakistan matches start buzzing in the environment from so long and so strongly that the fantasy cricket players will never need to put much additional efforts to stay aware of this match's highlight. We all can easily hear people talking around us about latest happenings and updates of this match.
4. You really do not have to wait for long for the filling up of preferred leagues. Due to the huge number of participants in fantasy cricket world for India vs Pakistan match, the leagues keep filling up in few micro seconds. Therefore you do not really have to wait for the league to fill in even if you are joining at the last moment.
5. You can rely on your most favorite Indian player for his good performance. It is always been noticed that due to the hype of India vs Pakistan match worldwide, it gives a great boosting and positive Indian players to perform their best and give the taste of defeat to their most fanciful target i.e. team Pakistan. Therefore if you are picking your most favorite top order batsman or top picked bowler, their chances to excel and perform their fullest become even higher.
6. Having not a big list of great players in Pakistan's team gives a great relief in picking up the top11 for the fantasy league. You already know that it is only Indian players who you need to rely upon except one or two in Pakistan's team. Therefore, it is never harder to pick a great team during the fights of this very popular duo on Cricket ground.
About FSL11 Fantasy Sports App
FSL11 is a premium fantasy sports platform where you can play fantasy cricket games and Fantasy Cricket Leagues online. Just create your fantasy cricket team and compete with the online players. Download Fantasy Cricket App FSL11.