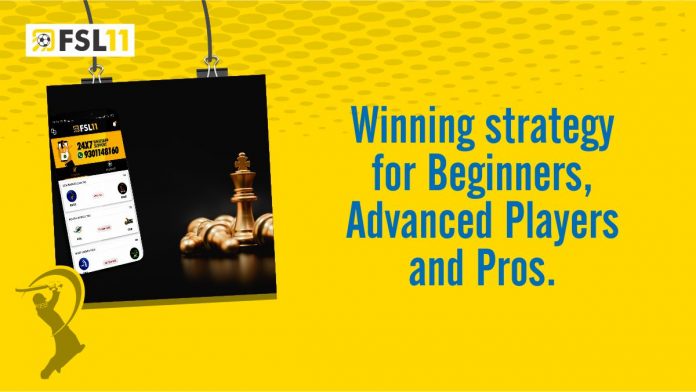 The Fantasy Cricket App is the right platform for you to begin your journey as a fantasy cricket player. Along with several cash contests, FSL11, the top Fantasy App, provides you with a free practice contest where you can get accustomed to the app before betting for the matches.
Fantasy cricket tips and winning strategy for beginners –
1. Don't let emotions faze your judgement –
While building your team of 11 players in a fantasy league, you should never let emotions faze your judgement. Your favourite cricketer might be playing a particular match, but if he is out of form or has not done well against the opponent historically, you should avoid selecting him. This is one of the most important fantasy cricket tips.
2. Big-ticket stars come with maximum credit points too –
Many big-ticket stars come with maximum credit points, so be careful while selecting them because if they fail, it could adversely impact your fantasy league. Steve Smith, for example, often comes with high credit points. For such players, you should always do proper research rather than just going on reputation and slotting them in your cricket team.
3. Stay updated –
The conditions, pitch, toss, venue, strike rate and opponent all play as important a role in the eventual outcome of your fantasy cricket team as the players. Make sure the fantasy playing XI you are building is the right fit for particular matches. You can Read our Blogs on the FSL11 website where we provide in-depth analysis, match prediction, injury updates, and expert fantasy cricket tips that will help create a fantasy team for any match or matches.
4. Picking the right captain and vice captain –
One of the most important Fantasy Game tips is to choose the right captain and vice-captain. The decision of the same might make the difference between winning and losing the game or the league. If you manage to select the two best performers of the game as your captain and vice-captain, it will be very difficult for anyone to beat you from that position. Since the captain of each team gets 2x points and the vice-captain gets 1.5x points.
5. Manage your team –
Until the deadline of the match, you can make as many changes as you like. You can also change your Captain or Vice Captain before the deadline of the match by selecting the button 'edit team.' Make sure you keep an eye on which of your players are playing the match and keep your team updated at all times.You can make decisions on players once playing11 is announced to make sure you have the perfect 11 in your team.
As an advanced player, you can either join small contests or grand fantasy leagues to win real cash. Here are a few fantasy cricket tips and tricks for advanced users:
6. Choosing the right combination –
You have to pick at least one player from each category of batsmen, wicket keeper, bowlers and all rounders, so choose carefully. This combination once again depends on the conditions and format.
7. Taking calculated risk –
Taking calculated risks is always advisable, but you should know what floats your boat. Suppose Royal Challengers Bangalore or Mumbai Indians, are playing at their respective home grounds. In that case, you should pack your fantasy side with top-order batsmen every single time. Similarly, if Chennai Super Kings are playing at MA Chidambaram stadium, you should have a plethora of spinners in your fantasy XI.
8. You can follow your analytical bid –
To know your real time position and rank in the game, you can track your fantasy time scoreboard and watch the real match in action. You can also check players performance stats by clicking on the player image.
9. Take a challenge –
Join your challenge, make your group, and kick your dream venture off. It's an ideal opportunity to play and bring in cash. You also have access to several cash contests. Join daily, score a rank in the contest and win real cash along with bonuses.
Fantasy cricket tips and winning strategy for Pro:
10. Time to trust instincts –
If you are a pro fantasy player, you have won a lot of the smaller leagues, and you know what you are doing. This is the reason why you should always trust your gut when building a fantasy side. Even if a particular player isn't in form and you feel he might do well based on his history at the venue or against the opponent, you should go for him. You never know that player might be the one that wins you the Fantasy Game App.
11. Go with multiple teams
When playing grand leagues, it is always advisable to go with multiple teams as more teams mean more chances of winning. Pick a core of five to six cricketers that you can bank upon and build all your teams around them. Never forget to make different combinations, and you should also rotate your captain and vice-captain around in the different teams.
12. Create your own contest –
You only can join the contest to win cash but certain gaming platforms also allow you to create your own private contest among your buddies and play. So that you can challenge a friend and analyse your comparative cricket skill.
13. Go beyond the known T20 leagues and international series –
As a pro player, you would have invested a lot of your time in research and have a lot of cricket knowledge. You could use this knowledge to enter the lesser-known T20 leagues and games around the world.
What are you waiting for? Download Fantasy App, and play the fantasy game. Create an account and enter the contests now.
Download FSL11 – The best fantasy cricket app now to bring in the real thrill of playing fantasy cricket online and win real cash every day with exciting bonus points.https://fsl11.com/download-fantasy-cricket-app
Image Credits to Owners