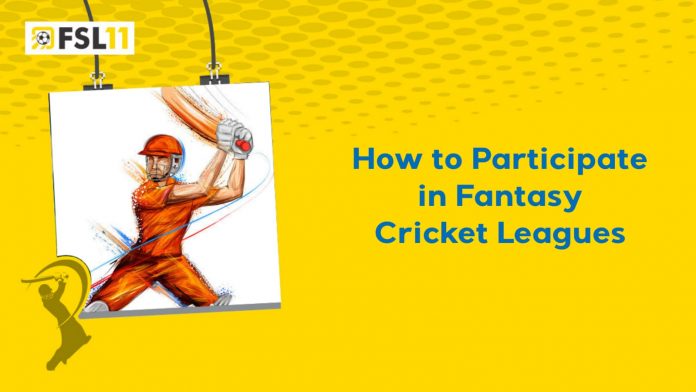 The cricket fans share a shatterproof bond with the sport and dream of being part of the match. Everyone gets so involved in the match that they cannot keep their emotions apart either in win or loss. The fantasy cricket leagues strengthen this bond to another level by allowing everyone to create their team, select their captain and vice-captain, and even choose a batting order of their presence. It gives a very enriching and enthralling experience to the users. 
Let us see how it works –
Select a league
Create your team
Select captain and vice-captain
Arrange the batting order
Join in a contest
Watch your team live scores
Collect you winnings
Select A League
There are different types of leagues like international matches, domestic tournaments, and they are further divided in one-day, T-20, and test matches. The fantasy cricket app will provide a complete list of all the matches lined up with the schedule. A timer is indicated in each, which shows how much time is left to participate in that league. You can select from the list the matches in which you are interested. It is always suggested to enroll for the match as early as possible because if scores tie, ranks are decided on the chronological basis of registration time. 
Create your team
Once you select the league, you have to select a team of your choice. You can choose players from both sides of your choice. Once you are set with the team selection, you have to choose your captain and vice-captain. The choice of captain and vice-captain is crucial because their points scored are multiplied by 2 and 1.5, respectively. If you are not aware of the performance level of players, then you can visit fantasy cricket site to get the stats and insight about the team and players.
Arrange the batting order
Once you finalize your team and captains, now it's time to set the batting order. You have to choose it so that your maximum players may get a chance to play in the match because the more they play, the more you will score the points.
Join in a contest
There are always many contests that will show up on the cricket game app downloaded. Contests have different registration costs and exciting cash rewards. You can register for any one of them which you like.
Watch your team's live score
You can view live scores of the match and your team on the fantasy cricket website. You can also see the team selected by other competitors, top-performing team combinations, and your live rankings. This is a complete rollercoaster ride that gives you an enthralling experience.
Collect your winnings
Once the match is over, you can see your rank in the contest you joined and can collect the reward for your rank, and you can withdraw your real cash rewards through various payment gateways as per your choice.
Now you know everything about how to participate in a fantasy cricket league, so download the app today and start earning real cash prizes.