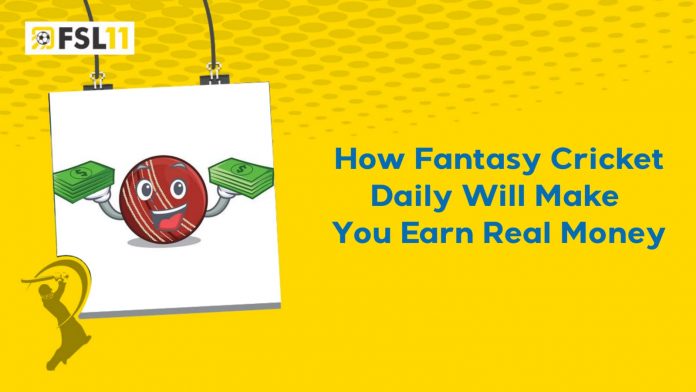 Without a doubt, cricket is the most popular game in India. We all get stuck in our seats when we watch cricket. It is treated as nothing less than a religion. What if you came to know you could win exciting cash prizes and rewards while watching the match? It is the best combination that we all dreamed of at some point in our life, and playing fantasy cricket daily will make that dream come true.
Or, even if you are not a big fan of cricket but want to earn money by playing fantasy cricket daily, you can still do it because it is a strategy-based game. Anyone with a better plan can win here. All the information about players, pitches, and teams that you will need is available on fantasy cricket website that allow you to make the best team out of it. 
Let us see how it works-
Select a league
You can select a league from the fantasy cricket app of your choice, and the league may be international, domestic, or any premier league like IPL, BPL, where you can select specific matches in which you are interested. 
Make your team
Once you are done with match selection on your fantasy cricket application, you have to create a team of your choice. You are allowed to choose players from both sides. Once you are done with 11 players, you have to make a captain and a vice-captain. This is an important decision because their points are multiplied by 2x and 1.5x, respectively. 
It is important to select a team where everyone gets a chance to play in a match because their scores will earn you points. You can get all the information about players and matches from the fantasy cricket website.
Fantasy points system
You must understand the fantasy points system well before joining any contest or creating your team. The point system will be according to your fantasy cricket application. There are different points for runs, boundaries, maiden overs, wickets, catches, the 30s, 50s, and centuries. There are also some bonus points for extraordinary performance like hattrick wickets and many more. You can get all these important details from your fantasy cricket app. 
Join in a contest
Now you can play fantasy cricket and win real cash. Joining a contest is the most crucial part of a fantasy cricket game. There are different types of contests that are available always, like
some of them with low registration costs and nominal rewards,
some with moderate entry fees with higher rewards with high competition
some with higher entry fees and maximum rewards with less competition
And many others also depending upon the fantasy cricket application.
Withdraw your winnings
After the match is over, you will get your rank in the contest you joined and can easily collect rewards according to your rank. If you want, you can withdraw your winnings from the fantasy app.
Since you have learned how fantasy cricket daily will make you earn real money, download the app today and start earning your real cash rewards.