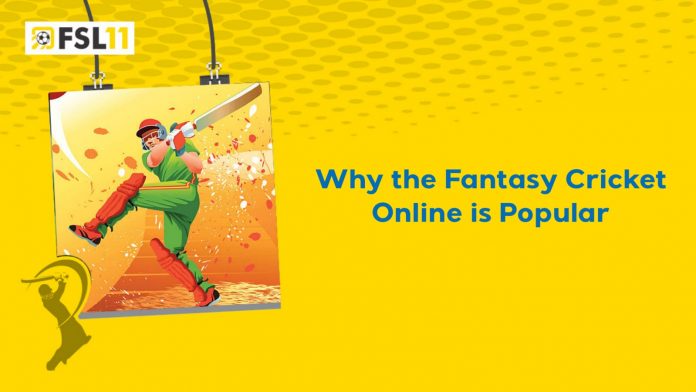 All the cricket fans can relate that we always thought about our dream teams, like having Virat Kohli and AB De Villiers, Sachin Tendulakar, Brian Lara, and many more in the same team. It was only a dream until the IPL was launched. It gave us a glance at how fascinating it is to see players from different countries in a team. But it was still not our dream team that we thought about. 
It became possible only after the launch of fantasy cricket online, which allowed us to choose a team of our own choice and many more.
Let us see what makes fantasy cricket online so popular –
Easy to access
The fantasy cricket online system is too easy to use, and at our fingertips, anyone with some prior knowledge about how to use smartphones can make a team of their own choice. All the information about players and teams is available on the fantasy games app to help you select your team.  
Brain on work
The fantasy cricket games provided us the privilege to select our team. We are now allowed to handpick our own 11 players and can choose any weird and fascinating team combination that we thought about. You can also select the captain and vice-captain of your choice. This is a crucial choice because their points are multiplied by 2x and 1.5x, respectively.
Interactive and rewarding
In this, you can arrange the batting order of your team on your own, choose any lower-order batsmen as your opener, or make any bowler open the innings for your team. But you have to be careful about the selections because the more your player will play, the more you can earn in cash. This imbalance creates the thrill in online fantasy cricket.
Strong online community
You can watch live scores of teams on the fantasy sports app. Your rank in the contest you joined will change on every ball per your team's scores. The points system also has bonus points for extraordinary performances like hattrick, centuries, and many more. You can check the live points table and view the team selected by other players in the contest. This is a complete roller coaster ride that will make you stick to your seats until the match is over.
Real cash prizes
Once the matches are over, participants will get real money according to their rank on the leaderboard. This means you can play fantasy cricket and win real cash with such an enriching experience. This makes online fantasy cricket leagues so popular among all generations. Participants can also easily withdraw their real money if they want.
Fantasy cricket makes every cricket fan's dream come true with such a fun experience and provides real cash prizes. These are some of the crucial reasons behind its humongous popularity.