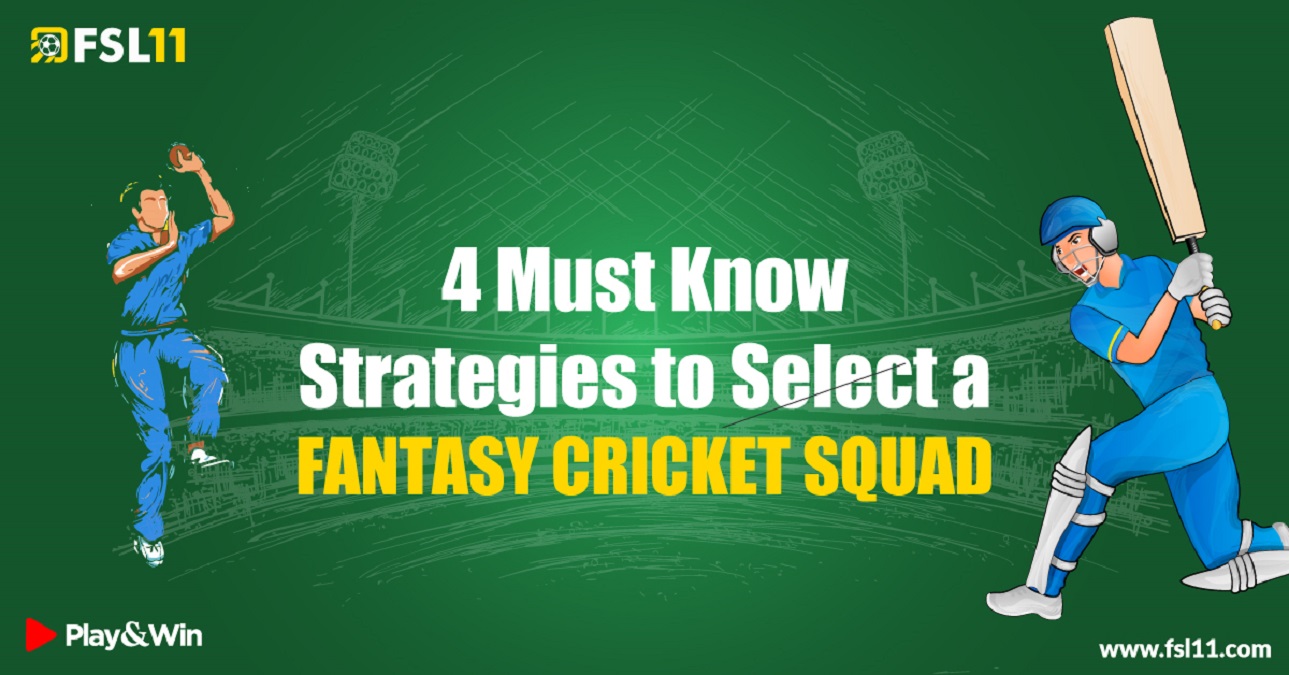 The new strategies we all need to know to select a winning fantasy cricket squad. The way to get through is definitely not easy and we have to do a bit of research in order to get adequate knowledge about selecting the best picks of final 11.
Since Fantasy league is a format where all of the players can make their virtual team and wait for them to perform to their best. The virtual currency used here to create the teams if resulted well can win them a lot of real money in their bank accounts directly. The real-life players of Indian crickets have got their specific digital values. You as a player are given a total of X amount which you have to rationally invest to form your best team for the match.
Playing fantasy cricket can really look simple and easy, but it definitely requires you to go through some Fantasy cricket tips and tricks before you try your hands on it.
Let's look at some of the fantasy cricket tips below:
1. Don't always pick your loved ones
You need to understand one thing that there are some key players in cricket which are being favourites of all fantasy league players like you. If all of the players end up choosing the same set of playing 11, this is going to put you on a tie situation but in case you wish to stay on the top of league board, you have to ensure some unique entries into your playing 11 which other thought is not of use but prove to be the game changers for the day. Sometimes your favourite may be going through a rough phase and may not be in his top performance period, so it is better to not count on him during such times and try to go more rational with your team selection.
2. Research is the Key
It goes without saying that before investment you always have to read about the business type, its internal & external factors affecting the entire business model. Therefore before you pick any player for your final 11, do proper research about his previous records, his performance average in different formats of cricket and his form in recently held matches. I know in many of the cases, you might not have even heard of the player's name, so you can just go to the sites like crickinfo and official IPL websites, to read more about these players.
3. Pick only the one who will be playing
Chances of your winning can be stronger if you have all the real playing 11s in your squad. Many a time it happens that international cricket series strike on the dates of IPL, which is when the key players play for their international matches and do not be available during IPLs. This where the real thing comes in. If you do not do your research well and end up picking any such player who is not even in playing 11, this can be a total loss for your selection & give you a start in the race from the last position.
4. Read Match Predictions Online
You might not be a regular cricket follower and it might take you some time to adapt to the dynamic trends of cricket. Meanwhile if you still wish to play fantasy cricket, it is essential for you to read match predictions online which are given by the people who already follow the cricket aggressively. It is also to be taken care of that you do not depend only on one site for these predictions, rather you should go through 3-4 of them and pick out only the common facts so that you stay on the safest most site.
I hope following some of these key Fantasy cricket tips, you will be able to pick one of the best playing squads and will make yourself win on the leaderboard.
About FSL11 Fantasy Sports App
FSL11 is a premium fantasy sports platform where you can play fantasy cricket games and Fantasy Cricket Leagues online. Just create your fantasy cricket team and compete with the online players. Download Fantasy Cricket App FSL11.